Betty Jo Middleton
Alphabet Soup

400 Madison Street #804

Alexandria, VA 22314-1747

703-549-4951

bettyjomiddleton@aol.com

The Rev. Betty Jo Middleton has served eight congregations in the Greater Washington area in positions in ministry and religious education and as Life Span Religious Education Consultant for the Joseph Priestley District.

She has written religious education materials for all ages. Her work has appeared in the Unitarian Universalism: Selected Essays, Unitarian Universalist Ministers' Association 1987 and 1996; Religious Education. The Journal of the Religious Education Association; First Days' Record, and with Roberta M. Nelson, a chapter on "The Ministry of Religious Education" for Leaping from Our Spheres, UUMA 2001. Her life style articles, food columns, photographs and poems have appeared in newspapers and regional magazines. She received the UUA's Angus McLean Award for Excellence in Religious Education in 2004.

She has taught religious education classes at Wesley Theological Seminary in Washington, D.C., (with The Reverend Margaret Corletti) and at Meadville Lombard Theological School in Chicago.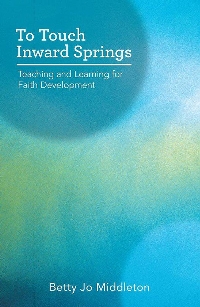 | | | | |
| --- | --- | --- | --- |
| ITEM | DESCRIPTION | AGE | COST |
| Listening Between the Lines | A Musical Response to Pop Culture. This edition contains 150 songs, including previous editions, with a variety of musical styles and songs from the 1960's to present. Includes questions to explore life and belief systems. Can be used to expand other curriculum. The plan is to update the e-copy with 5 new songs each year. E-copy is $20 with free updates. Paper supplements are $7 each and would keep costing $7.] | G6-Adult | $50, elec. |
| Second Thoughts on Planning for Adult Religious Education | 6 sessions. Compendium that includes First Steps --Planning for Adult Religious Education. A process guide to develop or re-vitalize adult religious education programs. Although intended for a group, may be a workbook for an individual. Topics include: beginning the process, the adult learner, content of the program, learner differences and educational design, structures and models, and designing the overall program plan | Adult | $18 |
| Some Notes On Adult Programming | Notes from the 1999 Meadville Winter Institute, with Rebecca Parker and William Murray. Online. | Adult | web |
| Support for the Volunteer Religious Education Teacher | Design a support system for volunteer teachers in the religious education program, taking note of policies, procedures, team teaching, and methods. Essays on teaching as spiritual guidance and the significance of teachers in our religious education programs. (Not Available) | | web |
| The 4U History Book Club (Year One) | Faith development program exploring Unitarian, Universalist, and Unitarian UniversalistHistory (teens, adults); suggested activities for concurrent children's programming. 12sessions. Each includes a monthly book selection, goals for participants, information about the book, optional children's activities, and an extensive list of books for further reading. | All ages | $12 |
| The Flaming Chalice | From Logo to Religious Symbol with the Help from the Relgious Education Community. Historic perspective and use in religious education. | Adult | web |
| To Touch Inner Springs | Teaching and Learning for Faith Development. Part One (Chapters 1-8) is historical, nurturing and learning theory. Part Two (Chapters 9-16) is various methodologies. UU Sunday School grant. Available from UUA Bookstore, and Amazon, and eBook | | UUA $17.95, eBook |
| While You're Growing | Strategies and Resources for Small Congregations. Broad scope of and RE program. Published as a book, scanned to the UUCARDS website. Excellent ideas and resources of the time. | | web |
Online Resources
Notes on Adult Religious Faith Development
Graduate Religious Education Course
Support for the Volunteer Religious Education Teacher
The Flaming Chalice
While You're Growing Strategies and Resources for Small Religious Education Programs

Ordering Information
Resources and Ordering Form